Summer is still poppin so I thought it would be perfect to make these vibrant and satisfying Thai Tea popsicles! So fun and perfect for the hot sun, these make the best treats for both kids and adults!!
This recipe is so simple to make and you have a lot of options for it as well. To make my Thai Tea, I used a Moka pot but you can easily use a coffee machine as well, just make it like an espresso because we want a very strong brew. Either way, both of those work perfectly fine. I'll link the Moka pot and Thai Tea mix I used down below for you guys!
I just fill the bottom of my Moka pot with a full glass of water and add the Thai Tea mix into the funnel. Screw on the top and place it over the stove until the water boils and you get Thai Tea! From there, you just add in condensed milk (I'll list the exact ingredients below) and now you've got options: 1) Drink it hot (typical in Thailand) 2) Add ice and you've got Thai Iced Tea or 3) Add into popsicle moldings!
I get so excited when I make this recipe haha because I like to pour some into a glass and drink it with ice while I pour the rest into popsicle moldings 🙂 Yummmm! Just make sure to let your mixture stay in the freezer overnight so they can really freeze and harden. Trust me guys, this is an absolute HIT especially for picnics, desserts, or just to enjoy under the summer sun. Sooooo goooood!
In Thailand, they have these cool little carts that roam around the streets carrying Thai coffee and Thai tea. They make it traditionally with these huge tea bags and it's so fresh you can really taste the difference. They only add in condensed milk and give that a stir and serve it just like that. That's actually how I learned the traditional Thai tea because usually in restaurants in the states, they like to add half and half and some sugar. So the OG traditional way is just purely condensed milk, which is interesting!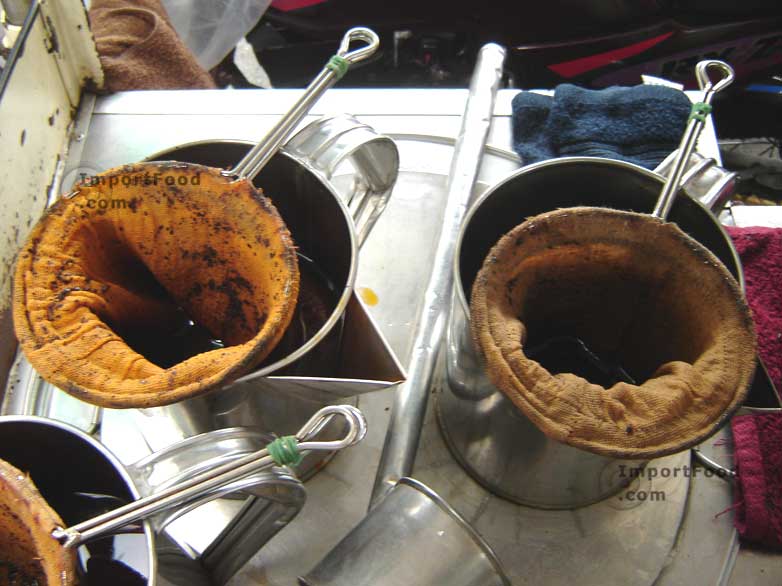 Here's a picture of the tea bags they use to make either Thai tea or Thai coffee!
This is one of the stands that either roam around the streets or are stationary near busy areas!
It's always so fascinating to learn about these different cultures and I'm so glad I learned the traditional way to serve Thai Tea! I so highly recommend giving this a try it's delicious in all three forms! Check out my video on youtube linked down below to see the full details on how I made these popsicles 🙂
Here's the exact Moka pot and Thai Tea mix I used:
Ingredients:
Thai Tea mix
Moka pot (or coffee machine)
Water
2 big tbsp of condensed milk
Popsicle moldings
And here's exactly what I did to create these magical popsicles 🙂
xoxo